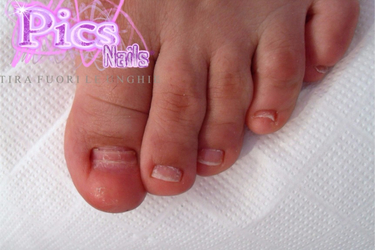 Over the years, in our Nail Salons Pics Nails often happened to meet Customers who had different nail problems, liked to past Trauma repeated in time that already visibly damaged their Toe Nails, causing aesthetic problems, and not only!
Often, a traumatised and damaged Nail in fact is not just a problem linked to the aesthetic field, but it can compromise also our psycho-physical wellness, from the comfort of wearing a shoes up to the psycho difficulties...it is not always easy to show a Foot with an "unpleasant" aesthetic aspect ad it often happens that who suffers from these diseases, chooses not to show their feet, even during the hottest months of the year!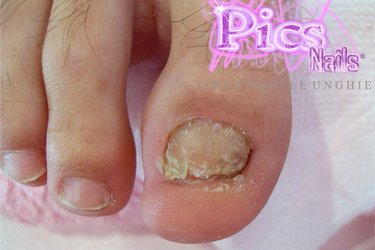 Even is less frequently, it also happened to know Male Customers who suffered from Toe Nails Trauma!
We know that, unlike Women, Men are more reluctant to do Aesthetic Treatments and they choose unlikely to contact experts to remedy annoying problems like this!
But, just as we told in the Deepening dedicated to Onychophagy, also for Men it is possible to adopt some little solutions and precautions able to solve their nail problem, in a moderate way and with a finish which is not evident and completely natural!
As in the Case shown in the Photo here Beside: a very evident and unaesthetic nail problem for the feet of a Customer, then solved with the use of a Nail Drill useful, in these cases, to "lower" the thicken Nail to give it a more natural aspect!
Only in this way it will be possible to Rebuild the Nail, being very careful of choosing then the most suitable Gel Camouflage to obtain a natural finish and effectively hide the underlying nail surface. Once concluded the Nails Extension, moreover, it will be appropriate perfecting the work by trying to obtain a "matte" effect with the aid of a Smoothing Nail File, thus avoiding the gloss effect which is not appropriate for Male Nails!
CLICK AND DISCOVER THE NAIL DRILLS

PICS

NAILS!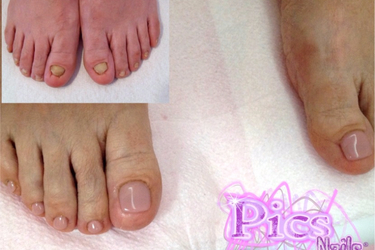 But let's go back to the main Question: the Nails Extension as an useful method to hide and solve the blemishes linked to the Toe Nails Trauma!
In the photo Nex to there is a first example of how it is possible: in this case our Nail Technicians chosen to carry out a Gel Nails Extension realised with Nail Forms and, therefore, with the method called "sculptural"!
For this Customer it has been selected a Natural Color able to give a natural and extremely looked-after finish to the work: Feet have a new, healthy and aesthetically impeccable aspect!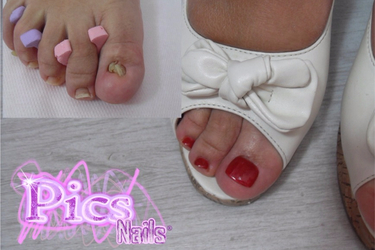 Here is again another example relating to a Gel Nails Extension with Nail Forms, a method that has been selected also for this Customer who had a very traumatised hallux and desired to give life to her Feet!
In the photo beside we show you the "before and after" precisely to prove how it is possible to obtain a very satisfying result even such cases!
The Nails Extension with Sculptural method allowed to create and literally "give life" to the Nail of the Hallux by covering the skin area with the Gel conveniently applied and shaped to achieve a natural and completely credible finish!
Obviously, before proceeding with the Extension of the Nail, is fundamental to evaluate the sizes of the Hallux of the other foot, in order to obtain a balanced and harmonious work.
Our Advice, anyway, is to avoid Excessive Extensions, and to opt for a length that does not arrive beyond the fingertip and to work with care on the Gel sides so that to create "fake" Nail Walls and realise a really credible and perfect work!
Unlike the previous work, this time the Customer decided to opt for a more lively color: a timeless Red, a colour which is symbol of femininity, to be finally able to show Feet!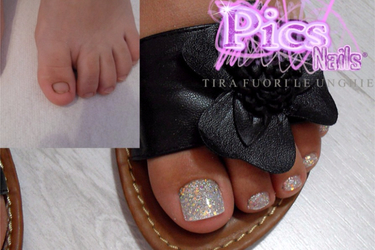 Still another Photo to tell you with concrete examples the possibilities at your disposal to solve this problem: in the case of this Customer, our Nail Technicians opted for a Gel Nails Extension with Tips for Feet, used for the Extension of the Hallux Nail visibly traumatised and damaged!
CLICK AND BUY THE FEET NAIL TIPS!
In this work, the Tips allowed to create an Impeccable Nails Extension and, moreover, the use of the Hexagon Glitter Powder Aquamarine allowed to attract the attention on the shiny and brilliant aesthetic aspect guaranteed by the use of the Glitter Products Pics Nails!
Also in this case, Feet acquired a New Amazing Look!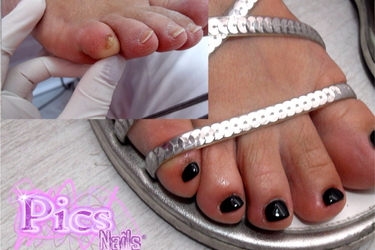 We conclude ths Series of Examples with a new case.
This time the Customer had - as it often happens especially to women, also because of tight-fitting shoes or with a tapered shape - a particularly damaged Pinkie Nail and she desired to obtain a balanced and perfect result for all the nails, giving to her Feet a looked-after and glamour look!
Also in this case, we chosen to Rebuilt the Pinkie Nail with the Aid of the Nail Tips! As you can see, the result obtained is completely natural and aesthetically pleasant, enhanced by the profundity of an intense and trendy colors as this!
We arrived at the end of this itinerary, created to show you how it is really possible to put remedy to aesthetic problems such as those that we told you!
Obviously, our first advice is always to contact a specialist doctor in case of nail problems, to be able to find an appropriate therapy, if necessary. Our aim, here in our Nail Artist Blog, is to tell and show examples of real cases that we were able to aesthetically solve!