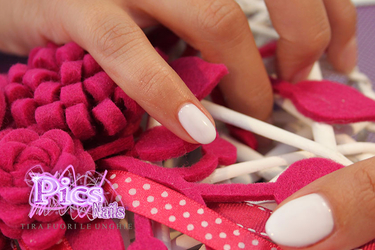 The New Gel Polsh 3 in 1 One Step Pics Nails is an incredible and revolutionary product : a dream that becomes true, that of all the women who wanted the glossiness of the Gel, the Simplicity and rapidity of applying normal Nail Polish and the convenience of instant drying under UV Lamp...all in one product, available in the section One Step Gel Polish of our catalogue online!
The Gel Polish 3 in 1 One Step Pics Nails, in fact, contains in itself all these great features:DOES NOT require neither Base nor Top....nor the use of Nail Cleaner to degrease the surface of the Nail after catalyzation!
Precisely : a single product able to perform the function of 3 products, the fruit of an intense search by our Pics Nails Specialist Staff and its Laboratories! The Gel Polish 3 in 1 transforms your nails in a few minutes and with incredible simplicity!
Gel Polish 3 in 1 One Step Pics Nails:Its Revolutionary Characteristics!
The New Gel Polish 3 in 1 Pics Nails, available in a handy format a Flask 8 ml with Integrated Brush, has a special formulation that gives a perfect Covering and a Surprising Fluidity in spite of the fact that it is a Foto-Curing product , which therefore requires the exposure under a UV or LED lamp to catalyze, hardening and fixing perfectly on the Nail surface.
Its characteristic formulation also allows to perform a correct application without the aid of any liquid for degreasing the Nail or for eliminating the dispersion layer,normally recommended for normal Gel Polishes: No Acetone, Nail Cleaner or other liquids...but not only this!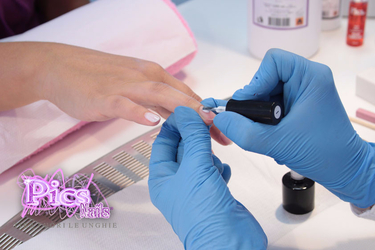 Gel Polish 3 in 1 One Step Pics Nails: How its Applied!
The incredible peculiarity of the Gel Polish 3 in 1 Pics Nails, in fact, is that it can be applied without the use of any product Base and Top!
After properly preparing the natural nail surface with the aid of the Preparation File, and having eliminated thoroughly every residue of filings and modeled to the shape and the length of your nails to your liking, you can proceed directly with the Covering of the Gel Polish One Step!!!
It will be sufficient to lay the Gel Polish 3 in 1 just as if it were a normal Traditional Nail Polish and let it subsequently dry under a UV or LED Nail lamp to allow it to catalyze perfectly!
At this point...the work is finished! Precisely in this way: it will not be necessary to degrease or carry out further steps of work...you can proceed with the application of your oil for cuticles and you will be ready to show off your hands and your perfect nails!
In our Section Nail School there is already available a detailed Manual for Gel Polish One Step 3 in 1 Application and obviously we could not leave out the Manual for Gel Polish One Step 3 in 1 Removal!
Two New Step By Step Free Manuals dedicated to the correct application and removal of this revolutionary Gel Polish!