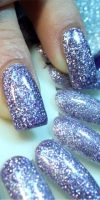 The Decorative Glitter Gel for Nail Extension and Overlays Pics Nails are professional photo-curing products of medium viscosity, with excellent adhesion and a chromatic formulation and unique effect of its kind.Used in French, on the whole nail or only on specific parts of the nail surface they are able to give every creation a unique aspect of its kind!
The Glittered powders and dust mixed with first choice coloured pigments offer a finished product that can be distinguished between many for its characteristics of lightness and flexibility, guaranteeing excellent results of sealing and duration with any type of processing.
The Glitter Gel Nails offer the possibility of being coated one or more times on the same job so as to be able to have the possibility to choose the colour intensity and reach the degree of desired layers in your Nail Gel Glitter Design. The reduced times under the lamp (only 2 minutes under the lamp of 36 Watts), they also give way to save valuable time unlike many imitations present in commerce.
It is worth to clarify that, also according to the different geographical areas, the products supplied by Pics Nails with the name "Glitter Gel Nails" for Nails Extension can be known also with the following terms:
Brilliant Gel Nails
Gel Nails with Sparkles
Brilliant Decorative Gel Nails
Photocuring Glitter Gel Nails
Glitter Gel Nails for Nails Extension
Decorative Gel for Nails
The particular formula of the Decorative Gel we deal with allowed us to produce Gel Nails Colors that are part of the same Glitter Line but with Color Powders selected by us as protagonists; To see the colors of Glitter Gel Nails and Gel Nails Color available, visit the categories clicking them here on the left or directly by the links present in this text.