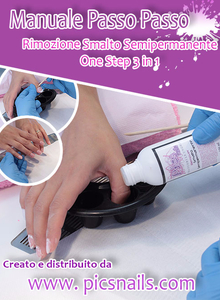 The One Step Gel Polish Removal Tutorial is a practical Guide Step by Step created by the Specialised Pics Nails Staff to show the best which are the necessary steps to proceed with a correct and safe removal from the nail surface of the new One Step Gel Polish 3in1.
This new amazing Nail Supply - available in our Online Catalog in the section entirely dedicated to the One Step Gel Polish 3 in 1 - can be perfectly eliminated with extreme ease and rapidity!
Few and simple steps, well described in this Tutorial Step by Step with the aid of pictures, explicative captions and useful advices.
The new Guide Step by Step can be downloaded for Free in pdf format, to be able to save it on your pc and leave it through whenever you desire it!
Click on the image here Beside to Download for Free the One Step Gel Polish 3in1 Removal Tutorial!